How does the "Drop-Pit" works?

The automated Ball Management System is responsible for washing the golf balls and transporting them to the dispenser. It works together with the robot ball picker to collect the golf balls on the driving range. Once full, the robot returns to its station and drops the balls into the Drop-pit.
This process, as discribed above, is fully automatic, from the moment the golf balls are collected to the moment they are transported back to the "Drop-pit" (the collection and release point of the washed balls).

The design and development of the Drop-pit system has been fully developed by Mr. Yves van Den Bosch, Managing Director at VDB Technics and therefore 100% Belgian made.

How do we operate?


Whether it is a robot mower installation for your green area or a ball management system for your driving range, the customers can count on a personalised approach,
Here is a brief overview of what you can expect from us when you choose our robotic technology offering.


Step 1: Free field research

During our first conversation we try to get a view of the current situation and area. This is usually done with the help of satellite mapping software and video. Also the size and complexity of the area or driving range, determination of obstacles such as steep slopes, flags, tree roots,...) is discussed. If necessary, an appointment is made to become acquainted with the area or driving range and special requirements.
Based on the investigation, we make you a recommendation and offer.

Step2: Installation

Once the offer is accepted, the installation process begins.
Driving ranges - A VDB Technician or partner carries out a field survey. He examines the field and determines the best location for the boundary wire, the loading stations, the ball drop zone, etc. taken the obstacles and slopes into account.
Installing the robots - A boundary wire is trenched around the perimeter of the area to be mown. A charging station is installed for each required robot. In addition, the complete ball management system is installed at the driving ranges.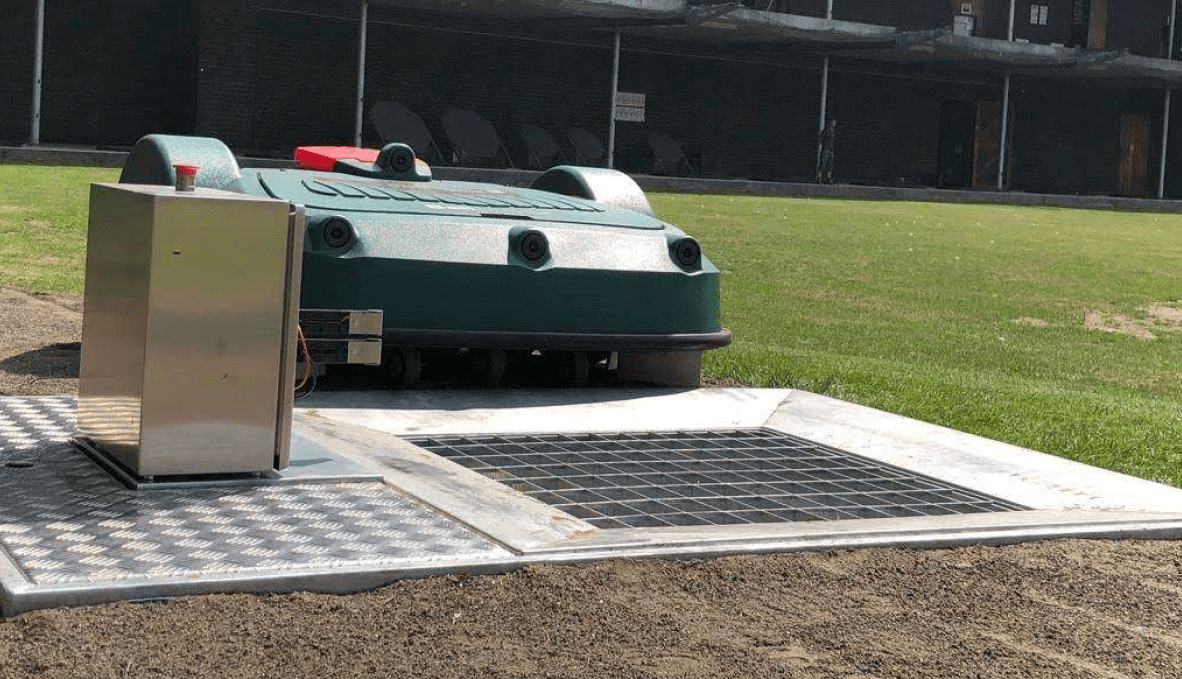 Step 3: Robots take control

After the preparation and installation process is completed, the robotic system is ready to handle the day-to-day maintenance tasks.
For your peace of mind, VDB Technics offers a full support and service package, including annual winter maintenance. We'll pick up the robot, perform a full diagnostic check and software update; provide new blades; give it a thorough cleaning and bring it back... as good as new!